Fatamorgana
photo by: Iryna Drahun
It all starts when a group of six people meet in an undefined space and simultaneously say the same phrase: Luckily, we are going in the same direction. From that moment on, they start walking towards the back, looking at the ever-changing landscape, like a multiplied figure from a romantic painting. Over countless nights and days, they merge with the space and become the paysage themselves.
Fatamorgana – choreographed by Paweł Sakowicz – is a dance piece focusing on covering and uncovering the (romantic) landscape. The intricate light, space and sound design explore the concept of night as a mystery that makes ordinary things, sounds and bodies seem different and eerie. The group of wanderers move cautiously: sometimes in extreme slow motion, other times trembling with the excitement of the unknown.
Thanks to Hellerau – Europäisches Zentrum der Künste Dresden
Supported by:
"Co-financed by the Ministry of Culture and National Heritage"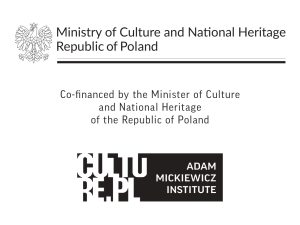 The Adam Mickiewicz Institute is a national cultural institution, whose goal is to build a lasting interest in Polish culture around the world. The institute works with foreign partners and initiates international cultural dialogue in line with the goals and aims of Polish foreign policy. The institute has put on cultural projects in 70 countries on 6 continents, including Great Britain, France, Israel, Germany, Turkey, USA, Canada, Australia, Morocco, Ukraine, Lithuania, Latvia, as well as in China, Japan and Korea. To date, the institute has presented 38 strategic programmes seen by 60 million viewers. AMI is funded by the Ministry of Culture and National Heritage. The institute's flagship brand CULTURE.PL – an up to date cultural news service, discussing the most interesting events and phenomena related to Polish culture – offers articles and news in three languages: Polish, English, and Ukrainian.
reviews:
"And that's what's so magnificent about the show. It feels as if cut from a dream: You come to the performance, experience it together with the performers, and then leave. It doesn't have a definite ending, but you still know it happened and you were a part of it."
Viktorie Štěpánová, protisedi.cz, 22. 6.  2023
"Fatamorgana is primarily an acoustic and scenic image with a significant share of lighting design, however, its main author is the choreographer, the visiting Polish artist Paweł Sakowicz. Perceiving this performative event is challenging, and I believe that it is appropriate to approach it differently than coming from the concept of a theatrical production. It is rather an event taking place somewhere on the threshold between an electronic music concert and an installation, which consists of the moving bodies of the performers and the lighting design (Václav Hruška) combined with a simple scenography (Valentýna Janů). (…) Its mastery lies in maintaining the tension and in resisting the desire to move more abruptly."
Lucie Kocourková, operaplus.cz, 24. 6. 2023
premiere: 16. 6. 2023