Festival Norma 2021
November 27, 2021
Studio Hrdinů, Prague
"Autonomous Zone"
The subtitle of this year's festival edition is "Autonomous Zone". The festival focusses on projects creating an autonomous zone as a space of escapement but also as a sort of activism, perhaps somewhat autistic, yet perfectly transferable, i.e. not necessarily introverted. In some cases, these autonomous worlds are a playful refusal of our "reality"; in other cases they are more of an expression of a conscious resistance to it or an absolute immersion into one's universe.
The playful performance The Deserted Island Protects 15,000 Inhabitants by stage designer and performer Zuzana Sceranková (a member of the progressive group "Eight Persons" and the youngest sister of well-known artists Pavla and Lucie Sceranková) and Natálie Rajnišová creates an autonomous world in which the lead role is acted by costumes – mythological beings-objects that keep appearing to mediate their micro universe – independent and not anchored in our reality – to us. Its form – a fashion show – perhaps aims at an easily understandable form but is actually inessential for the meaning of the performance.
Jumpcore, a performance by internationally renowned dancer and performer Paweł Sakowicz is a micro world seemingly minimalist in form and almost autistic in content that reminds of fantasy worlds. The project takes the viewer into such world by means of a rhythmical movement (incessant jumping going from peaceful to frenetic until near exhaustion) accompanied by spoken word. The result is a touching performance that engulfs the viewer. Jumpcore is the first dance project "owned" by the Zacheta Natinal Gallery in Warsaw, Poland.
Considering the shortened format of the festival and my need to embrace the issue of the autonomous world of an artist the best I could, I addressed curator Martin Mazanec and artist Dominik Gajarský who often works with video, to create a series of videos by international artists who in their opinion discuss this subject in their works. Videos will be presented as a one-time screening, thus becoming an equal part of the festival's dramaturgy.
In line with NORMA's tradition, the last performance is a work by a contemporary visual artist. This year, I addressed artist Marek Meduna, a former founding member of the Rafani group. For the "Autonomous Zone" Marek Meduna and his new group, Grottup, prepares a project on the borderline of a performance and rap concert.
Ideally, no festival should be viewed in fragments. The concept of NORMA can be experienced fully only when the viewer is willing to experience the festival in its totality.
Jan Horák
Art Director
17.00 Apolena Vanišová: Psohlavky (CZ)
17.30 Natálie Rajnišová, Zuzana Sceranková, Emílie Formanová: A Desert Island Protects 15,000 Inhabitants (CZ)
concept, directed & acted by: Zuzana Sceranková, Natálie Rajnišová
music: Alfréd Schubert and Ján Mesány, Anders Christopherson, Honza Tomšů, Johannes van Bebber, Matthieu Fuentes, Matyáš Bartoň, Michaela Švédová and Vojtěch Šaroun
production: Emílie Formanová
special guest: Struggling Uncles
Inhabitants of Desert Island can never meet because it is desert.
The authors organise a meeting on Desert Island. An island is a piece of land, smaller than a continent and larger than a rock protruding from water. "Desert" can refer to uninhabited, monotonous, bleak, dismal, boring. An island is an independent isolated ecosystem where specific rules apply.
Formally, Desert Island can be viewed as a stylised fashion show whose parameters are questioned in relation to the fleetingness of the past succession of images; evaluation of visual quality lifted out of context; separatedness of models and the concept of mental space of the Desert Island as a conceptual collection.
Zuzana Sceranková and Natálie Rajnišová study Stage Design (Master's degree) at the Department of Alternative and Puppet Theatre at DAMU in Prague. Stage designer and dancer Zuzana Sceranková dedicates herself to theatre on the borderline between visual art and installation and is an active member of the independent creative group 8lidí. Natálie Rajnišová focusses mostly on theatre on the borderline between fine art and music.
18.45 Paweł Sakowicz: Jumpcore /PL/
concept, choreography, dance: Paweł Sakowicz
dramaturgy: Mateusz Szymanówka
music: Indecorum
costume: Doom 3k
production: MAAT Festival, Scena Tańca Studio, Zachęta – National Gallery of Art
In his performance Jumpcore, inspired by the story of ballet dancer Fred Herko, Paweł Sakowicz discusses the poetics of the world of ballet dancers who are said to believe they "can fly". Dancing naked in his apartment to Mozart's Coronation Mass, Herko jumped out of the window as the composition drew to its close.
Jumpcore can be viewed as an autonomous world created in the very moment the dancer decides to fly. This fantasy world is full of extreme physical activity connecting lightness and total exhaustion in a fascinating manner.
Paweł Sakowicz is a choreographer and dancer. He graduated from the University of Warsaw with a degree in political studies and holds an MA in performance and choreography from the London Contemporary Dance School. His works include Bernhard, TOTAL, Jumpcore, Thriller and Masakra. They have been presented in three editions of the Polish Dance Platform, NYU Skirball and CAC New Orleans amongst others.
With the kind support of: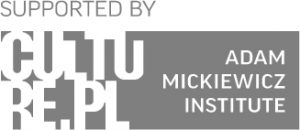 19.45 Dominik Gajarský / Martin Mazanec: Autonomous Cinema (CZ)
curators: Dominik Gajarský and Martin Mazanec
A series of videos by international artists discussing the autonomous zone. Selection by curator Martin Mazanec and visual artist Dominik Gajarský.
A series of screenings related to the issue of autonomous zone was created at the course of online dialogue between Dominik Gajarský and Martin Mazanec. At the beginning, the departure point was the "autonomous" look of various genres, be it a portrait, a grotesque or a video-parable. Gradually, both curators came across autonomous means of curated circulation of moving images beyond the frame of gallery and film distribution. The final selection of works made for NORMA will be accessible only to the festival audience.
Martin Mazanec is a curator, dramaturge and theoretician. He graduated from the Faculty of Philosophy at the Palacký University in Olomouc in Sociology (1999-2004) and Film Science (1999-2006). In 2012 he received his PhD at the Department of Editing at FAMU. He's been an in-house dramaturge of PAF since 2007 and since 2009 he has focused on curating activities in the field of presentation of the moving images in gallery and film systems (Josef Sudek Studio, KGVU Zlín, Summer Film School, Febiofest, Aye Aye, Mladých Gallery Brno etc.). He is a member of the research team of the MEDIABAZE.CZ research project (Centre for Audiovisual Studies, FAMU). He contributes to magazines Cinepur, Iluminace, Labyrint Revue, A2.
Dominik Gajarský is a representative of the sandwich generation on the contemporary Czech art scene. Although his work isn't strictly anchored in a single technological medium, he has succeeded in creating his own specific language, both in terms of content and form. He shapes his work around black-and-white visuality that picks up on the language of modernist photography. He maps events of the cultural past in his own subjective manner, while referencing history and achieving results that aren't stripped to bare research; research here is the structure that enables to build visual relations.
20.45 Núria Guiu Sagarra: Spiritual Boyfriends /ESP/
concept, choregraphy, danec: Núria Guiu
artistic support: Esther Freixa, Sónia Gómez
dramaturgy: Lluc Ubach
set design: Lola Belles
video: Alice Brazzit
light design: Joana Serra
technical assistance: Sergio Roca
manager: Fani Benages
Spiritual Boyfriends is a solo performance which revolves around the relation body-power.
Spirituality and specifcally the practice of yoga is the framework of this perfromance which serves to question politics of power and control. A power not
just as an external force imposed to the bodies but as a force that often people imposes to them-selves through a self-discipline. The practice of postural yoga has now a days an indirect impact on the way we construct personal and collective identity in relation to concepts such as beauty, health, capital, body, power. The concepts described above can be related to a socio-cultural context operated by macro structures but can as well be related to a personal and private context where micro structures of power are invisibly integrated in everyday life through habits. The performance approaches love, desire and eroticism as a form of spiritual experience linked to the construction of power roles through the body and its image. Digitality is approached through the performance as a space of desire, release of impulses, as a drug or a collective psychotropic, where the soul (understood as a divine entity, volatile, virtual, informational, energetic) releases the materiality of the body. What role plays Internet in relation to the divine, to the
immateriality, to love, power, to neoliberal politics and its technics of control and surveillance?
Núria Guiu is an artist based in Barcelona. She graduated in classical dance, is a certified Yoga Iyengar teacher and student of Anthropology and Human Evolution degree at the UOC university (Bcn). As a dancer she has worked with companies such as Cullberg Ballet, Gisele Vienne, Carte Blanche Dance Company, Batsheva Dance Company (Kamuyot/Riksteatern), Ingri Fiksdal, Jasmin Vardimon, La Veronal, Kobalt Works, Agrupación Señor Serrano. As a choreographer she has created a piece for Carte Blanche Dance Company in 2012 (La Muda), her solo Portal in collaboration with the Norwegian musician Gisle Martens Meyer premiered at Oktoberdans 2014 and her last solo work, Likes, which was selected by the European platform Aerowaves 2018 and won a special mention as the best dance performance at "Premisciutat de Barcelona 2018" as well as a prize for the best solo dance performance at "Premis de la crítica 2018 Barcelona". She ghas been working as an artistic assistant of Gisele's Vienne as well as a performer in some of her creations.
21.15 Marek Meduna / Aid Kid / Dan Kranich: Grottup – Refrein /CZ/
concept, acting: Marek Meduna, Aid Kid, Dan Kranich
Refrain, a performance made especially for the NORMA festival, is still in the phase of creation. In its title, Grottup intends to create, together with the audience, a performance-like live rap concert.
I'm draining a pool of generalisations. And this is only the beginning.
I'm fighting the swarm of personifications. And this is only the beginning.
I'm petrifying the curves of hope. And this is only the beginning.
I'm healing springs from manure. And this is only the beginning.
I'm establishing a virus brotherhood. And this is only the beginning.
I'm turning the stones of privacy. And this is only the beginning.
I'm clearing goods from gossips. And this is only the beginning.
I know metaphors from posts. And this is only the beginning.
Marek Meduna, a distinctive artist in the context of Central Europe, is active as a solo artist and as a member of the Rafani art group. Meduna's work often touches the core of art media while also showing the complexity of human understanding and rules. Given facts urge Meduna to question the possibilities of disrupting them. He then depicts these deviations in his work as connections between depictions and shapes and their location. In his work, Meduna often turns to sculpture, installation and site-specific, but texts and paintings are also included in his art practice. Meduna's experience and feelings imprinted in his work seem to reflect the clash of a subject with a dysfunction, with an unexpected feeling of indecisiveness or determination. The artist creates parallels of experience and compiles image and language: the resulting synthetic form is thus often made of a number of overlapping layers which are impossible to decipher in retrospect.
PRESALE WILL START SEPTEMBER 30th